Why Hotel Tylösand chose Tylösand infrared cabins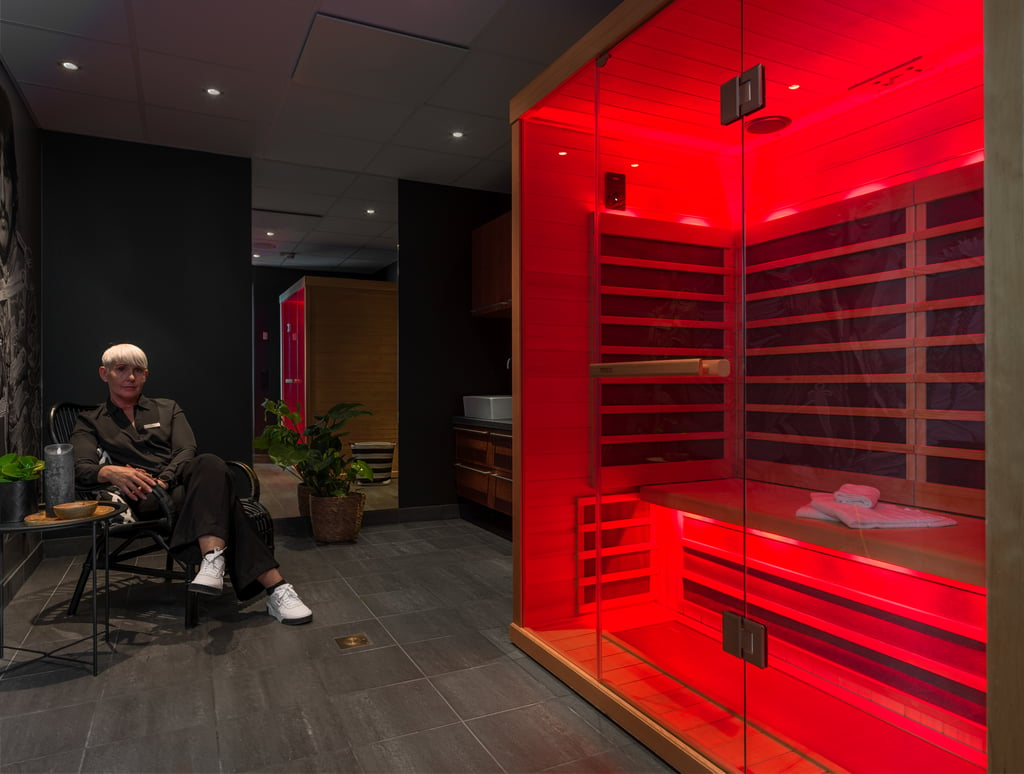 Hotel Tylösand on the coast of south-west Sweden is one of the country's leading spa hotels. Famous for active leisure and recreation, the hotel offers a unique approach to health and fitness. Its new initiative is biohacking featuring IR treatment, laser treatments and led masks. They chose Tylösand cabins for IR.
Anette Rolfsson, the hotel's biohack coordinator explains:
"I have been working with IR treatments for about two years at another spa facility here in Halmstad, but they used it more like a rehab technique. Here we want to use IR for both recovery and inner and outer beauty.
We chose IR as a treatment as it is a part of the biohack concept and we also understand how popular it is right now. "Of course we want to be one of the first spa facilities in Sweden to use IR as treatment."
How does it work? What are the benefits?
Anette explains that it's not complicated at all. Hotel guests can choose either a 25 minute or 50 minute treatment which is bookable for guests and people who want IR. The people are offered a detox tea for an extra cleansing.
"Infrared saunas are good for inside and outside of our bodies", says Anette. "It has a cleansing effect on your skin, helps you relax and in some cases helps you sleep better. It's a perfect treatment after a workout for better muscle recovery."
When should I go for infra treatment? After sports? Rehab?
Anette thinks you should always use IR after sport, and any time you want to relax. "I have seen a trend that people who train padel, cross fit, tennis, football etc., use it as a recovery treatment. We also have people who use it for beauty therapy. People of all ages come to us to enjoy IR treatment."
Why did you buy IR cabins from Tylö?
Anette didn't hesitate in answering the question: "It was a given since we use Tylö's other sauna products in our spa, and we are very happy with them. They are a local company who manufacture excellent quality products."
Name three things that summarize the IR experience
According to Anette: Pleasant, calming, cleansing.
And asked for any tips when it comes to IR, Anette suggests using an IR cabin regularly for best effect. "What's good with Tylö's IR cabins is that you can connect to Bluetooth and choose your own music. It makes the experience more cosy and pleasant. I recommend everyone to try it. I know they'll love it."
More effect, less energy
Infrared cabins use heat waves to heat up your body directly, so you need less heat to get a more intense sweat. Tylösand cabins use EvenHeat™ infrared panels that give you the same heat from bottom to top, evenly spread over your body. And they're probably the safest panels on the market, using patented Tylohelo technology.
EvenHeat™ for all over body warming
Tylösand cabins are equipped with EvenHeat™ panels that generate heat evenly and offer wall-to-wall full body coverage.
The panels have a larger heating surface to give you the best in bathing comfort. Together with CarbonFlex© floor panels, they disperse heat over a wider area to give you the most comfortable surface temperature. They also transmit maximum exposure over the widest possible area to create optimal infrared wavelengths that give you soft, even heat for that perfect sauna experience